Holiday Accommodation Los Llanos and Puerto Naos
Municipality of Los Llanos
The municipality of Los Llanos includes the seaside resort of Puerto Naos, Todoque and Las Manchas - something for everyone!
Los Llanos is the bigest city on the island, even larger than the capital of Santa Cruz and is often called the 'Secret Capital.' But although it is a lively place, the centre of the city is completely pedestrianised with the Plaza de España and ancient laural trees at its heart and is a tranquil place to sit and enjoy a Barraquito, the local coffee.
The seaside holiday resort of Puerto Naos is one of the three main beach resorts on La Palma. With its spacious and stylish promenade it offers a large sand beach and selection of restaurants, cafe/bars and small shops.
Todoque is a small town to the south of Los Llanos and where there are useful amenities such as a grocery store, chemist, bars, a restaurant and a church.
Casa Panorama
Las Norias
Sleeps 2 + 2 : Price from 44€ p.n.
Casa Panorama offers two individual bungalows with swimming pool and set on a large plot of land with fantastic sea views. The bungalows can be rented together or separately, each one sleeping two adults with 2 x single beds 90cm x 200cm, extra long, which can be put together for a double bed. Surrounded by nature and with a panoramic 360 degree view with no other neighbours close by, this is a wonderful piece of tranquility!
Apartments Sylvia
Puerto Naos
Sleeps 2/3 : Price from 65€ p.n.
Apartments Sylvia are located at the very start of the beautiful boulevard of Puerto Naos in the south west of La Palma.
Within moments of the sandy beach of Puerto Naos, each apartment has its own spacious balcony and stunning sea view!
All of the apartments have full self-catering facilities and plenty of restaurants just a stroll away in addition to bar/cafes and two mid-size supermarkets.
Apartments Adjovimar
Los Llanos de Aridane
Sleeps 5 persons : Price from 50€
Apartments of 1 and 2 bedrooms with double or twin beds - all self-catering with fully equipped kitchen and private bathroom.
The apartments which are just a few minutes walk to the centre of Los Llanos and Plaza de España have a communal swimming pool, beautiful gardens in which to walk and relax, gymnasium and massage facilities available. Restaurants are just nearby and Tazacorte beach is just a few minutes drive away.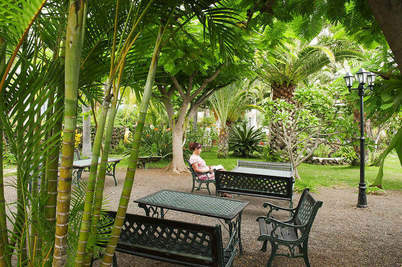 Apartment El Roque
Puerto Naos
Sleeps 4 persons : Price from 58€ p.n.
A spacious two-bedroom apartment in the Coloniol style building of El Roque, Puerto Naos. There are two swimming pools to enjoy as well as the beach a few minutes away along with restaurants and cafe/bars scattered along the recently re-developed promenade. The apartment provides a fitted kitchen for self-catering and your own balcony for enjoying meals al fresco. In addition to the beach at Puerto Naos, there are also the El Remo and Tazacorte beaches nearby.
Casa Retamar
Retamar, Los Llanos
Sleeps 6 : Price from 70€ p.n.
Casa Retamar is a lovely rustic house which has maintained its original features such as latticed, wooden window shutters and wooden ceilings.
It is located in a quiet area with a good climate between a banana and avocado plantation a few minutes from the centre of Los Llanos de Aridane. From the house there are beautiful views to the sea and towards the mountain.
Hotel Valle Aridane
Los Llanos de Aridane, La Palma
Sleeps 3 persons : Price 48€ p.n.
Hotel Valle Aridane is a comfortable hotel at the edge of the city of Los Llanos. The hotel has 43 twin bedrooms, many of which have a balcony with a fantastic view over the city and ridge of Caldera de Taburiente, and there is also a roof terrace to enjoy.
The GR130 walking route passes close by. Cycling and walking groups are a speciality for which there are preferential rates.
Hotel Benahoare
Los Llanos de Aridane, La Palma
Sleeps 2 persons : Price from 68€ p.n.
Hotel Benahoare is a modern, quality hotel with just 18 bedrooms located in a quiet area by the centre of Los Llanos.
With spacious bedrooms, some with balcony and views to the Caldera de Taburiente, there is also a large roof terrace with splash pool to enjoy. Buffet breakfast available.
Hotel Benahoare is on the GR130 Camino Real walking route and opposite the Museum of Archaeology.


Please complete the form below and click the Send button to get in touch with us. We'd love to hear from you!
Thank you for submitting the contact form.