Transvulcania La Palma
MOUNTAIN RACE TRANSVULCANIA - Next Transvulcania Race Date - 03 October 2020

Welcome to our Transvulcania La Palma page!
This means you are either curious as to what the Transvulcania actually is or ... you are one crazy runner!
So to cover all bases, just what is it all about?
The Transvulcania is an Ultramarathon of 74.33km which is not only an incredible distance but also involves running at altitude (hence 'Sky Running') and over coarse terrain with an accumulated 4,350m in ascents and 4,057 in descents. For normal people, it is a pretty tough 3/4 day trek. Needles to say that to run it in a day, it doesn't come much harder.
The course covers the GR131 El Bastón starting at the Fuencaliente lighthouse in the extreme south of La Palma, up and along the Volcano Route, on to the Roque de Muchachos and then descending down to the Puerto de Tazacorte before a final ascent up to Los Llanos and the finishing line.
The Transvulcania Ultramarathon is sponsored by Naviera Armas and is one of the Salomon Sky Runner World Series. Below is the course profile along with photos and more details: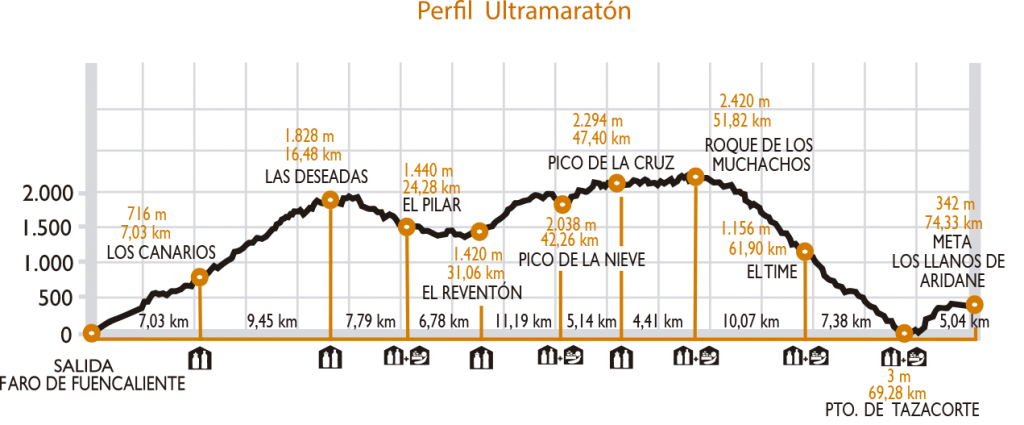 The Transvulcania only started in 2009 but already it has been voted by competitors as one of the top races in the whole of Spain.
And not only is there the Transvulcania Ultramarathon itself, but there are other races too!
Race name
Distance
Ascents
Descents
Start - Finish
Ultramarathon
74.3km
4.350m
4.057m

Starts Fuencaliente lighthouse - GR131 - Tazacorte - finishes Los Llanos

Marathon
41.7km
3.433m
1.990m

Starts Fuencaliente lighthouse - GR131 - finishes El Pilar via Mazo loop

Half marathon
26.8km
2.180m
730m

Starts Fuencaliente lighthouse - GR131 -finishes El Pilar

Junior half marathon (16-17 years)
26.8km
2.180m
730m

as above

Vertical kilometer

(200 places)

6.6km
1.160m

Starts Puerto de Tazacorte - GR131 - finishes El Time turret

Senderistas (hikers/walkers)
approx 16km

Starts El Pilar - finishes Los Llanos

Various fun runs
Huge thanks to the organisors - the Cabildo de La Palma. So if you are not competing, then please do support those who are! Are you interested in past Transvulcania results? Know I am! Here they are:
2018 Transvulcania Ultramarathon Mens Results

1 - Pere AURELL BOVE
13:37:27
07:37:26
2 - Dmitry MITYAEV
13:38:23
07:38:22
3 - Thibaut GARRIVIER
13:42:50
07:42:49
2017 Transvulcania Womens Results

1 - Ida NILSSON
14:40:44
08:40:43
2 - Mònica COMAS MOLIST
14:46:58
08:46:57
3 - Kelly WOLF
14:49:46
08:49:45
Looking for accommodation for the Transvulcania - ask us about availability as we have a whole range of suitable accommodation.
You can check out the Transvulcania website here: http://transvulcania.com. And also look at iRun Far for the La Palma ultramarathon race results and more information on the Transvulcania races. And Definitely take a look at the You Tube TRANSVULCANIA Salomon Nature Trails official video
Or if you want to get a great Transvulcania T-shirt or a guide to walking on La Palma, you can get them here: http://www.senderosdelapalma.com/shop/
For stage distances of the Transvulcania, elevations and more, check out the info below (courtesy of Transvulcania Ultramarathon Info)