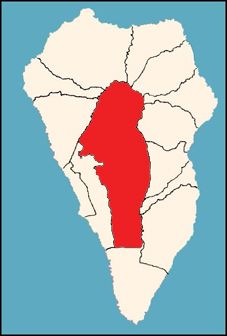 Municipality of El Paso
Located in the centre of La Palma on the west side of the mountain ridge which forms the southern spine of the island, El Paso ranges from a busy little town to the most stunning natural elements of the island.
At its heart is the Caldera de Taburiente which a massive erosion crater formed thousands of years ago from a volcano and now with a diameter of 9km and a height of 2426m, the highest point of the island. If you don't get time to go to the top of the island or walk inside the crater, La Cumbrecita with its amazing view serves almost as well!
The town itself is a bustling affair which almost every shop you can think of. And if that's not enough, there's the largest city on the island of Los Llanos 7km away.
If the beach is your thing, El Puerto de Tazacorte and Puerto de Naos are both a great choice at 20/25 minutes away. And from almost everywhere in El Paso you have wonderful views at every turn.
Accommodation in the municipality consists mainly of rural houses (casas rurales) ranging from a one-bedroom cottage with shared swimming pool to a 3-bedroom house with beautiful sunsets and starry nights.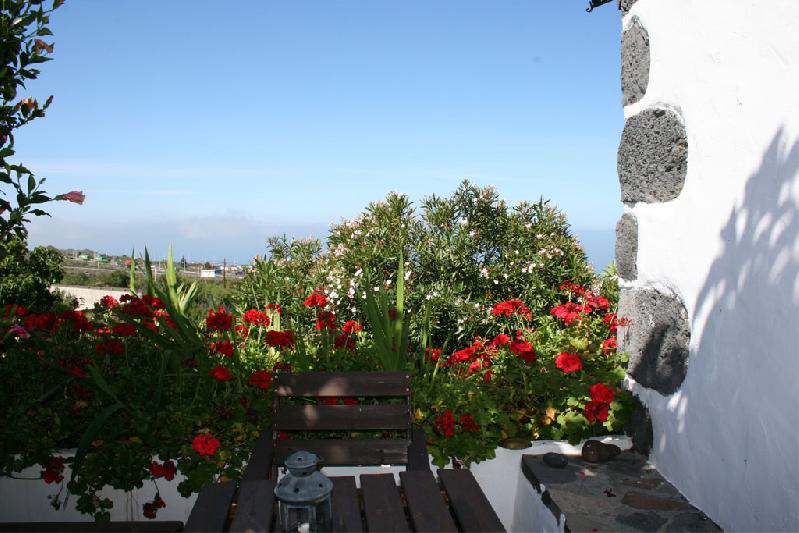 Casa Rural El Rincon
2 bedrooms - sleeps 3
from 50€ per night
Situated south of El Paso on the road to Puerto Naos, Casa El Rincon is a great family house and with lots of outdoor space to enjoy a BBQ and the views.
With very few houses nearby, there is plenty of privacy which can be taken full advantage of from its various patios. It's also very suitable for astronomy and star gazing.
Casa Rural La Higuerita
2 bedroom - sleeps 4
Price from 60€ per night
Casa Higuerita is an enchanting and rustic house situated just 2km from the Caldera de Taburiente National Park in the centre of the island. A careful work of restoration of this old Canarian house keeps the atmosphere of years gone by and this is enhanced by a mud oven, log fire and eco-friendly recycling of water. However, there are plenty of modern conveniences too. It's a fabulous family house with a private garden to the rear and courtyard to the front.
Casa Rural Jacinta Pura
1 bedroom - sleeps 3
Price from 50€ per night
Casa Rural Jacinta Pura is a very traditional Canarian cottage with thick walls, built-in window seats and old roof. With a patio and spacious garden to the front of the house, there are wonderful views over Los Llanos de Aridane - or you can sit under the palm tree in the garden and enjoy views to the mountains range of La Caldera de Taburiente.
Casa El Morro, El Paso
1 bedroom - sleeps 2
Price from 55€ per night
The holiday home El Morro is full of charm and romance! Nestling in its own little courtyard filled with colour, the spa jacuzzi adds a touch of that something special. For time spent outside, it would be difficult to choose between the jacuzzi, sun loungers and eating al fresco at the patio table and chairs.
The interior of the house is furnished and decorated very carefully with something of a Parisian flair which is in wonderful contrast to the surrounding stunning scenery.
Casa Ismail
1 bedroom - sleeps 2
Price from 60€ per night
Casa Ismail is a magnificent house with many original features such as the tea wood floorboards hand-crafted from the heart of the Canarian pine tree and the cuatro-aguas (four-waters) ceiling. The large bedroom with King Size bed is a definite plus! As is the log fire which heats up the lounge in the cooler winter evenings.
The stunning views from the house include the ridge of the Caldera de Taburiente and the Pico Bejanado. For dining al fresco, there is a built-in BBQ.
Casa Rural Sombrero de Pico
1 bedroom - sleeps 2 persons
Price from 50€ per night
Casa Sombrero de Pico is one of a small group of three houses with shared swimming pool and situated in a quiet area. Full of Canarian charm and history, this lovely holiday cottage is cosy and yet very practical. The exterior provides a magnificent terrace equipped with patio furniture from where you can enjoy the views of the Caldera de Taburiente and to the sea.