It's Beach Time on La Palma!
With the beautiful landscape of La Palma perhaps it's no wonder that the beaches are sometimes left out as a major asset of the island. In fact, people often don't realise what brilliant beaches La Palma actually does have! OK, they are not at all like the almost white sand beaches of Lanzarote and Fuerteventura, both islands which are well known for wind surfing. Nor are they like the honey coloured sands of south Tenerife which attract tourism on a large scale. No, these sands are a warm black - in fact, grey with a sprinkling of reddy-brown and a hint of silver - due to the fact that La Palma is a very young island in geological terms. And of course the other important difference is that it's rare to see a beach on La Palma packed with tourists apart from August which is a very popular time with locals and the Spanish from mainland Spain.
So let's talk about the beaches on La Palma and I think you might be surprised at just how many there are!
Starting with the three main beaches on La Palma - Los Cancajos, Puerto de Tazacorte and Puerto de Naos - these are the tourist 'resorts' on the island ...
Puerto de Tazacorte in the west also has a great beach and with several excellent fish restaurants by the water's edge, a swim followed by a fish lunch just seems so very right! The safest swimming is definitely near the breakwater end, where the restaurants are as further along the beach, there can be sudden big waves. So please keep children in the safe area. The snorkeling can be interesting here too but it's better known for its swimming. In summer, there are inflatables in the water and whilst I'd love to give them a go, I can't say I've tried them out (yet).
At the harbour end of the beach is a nudist area.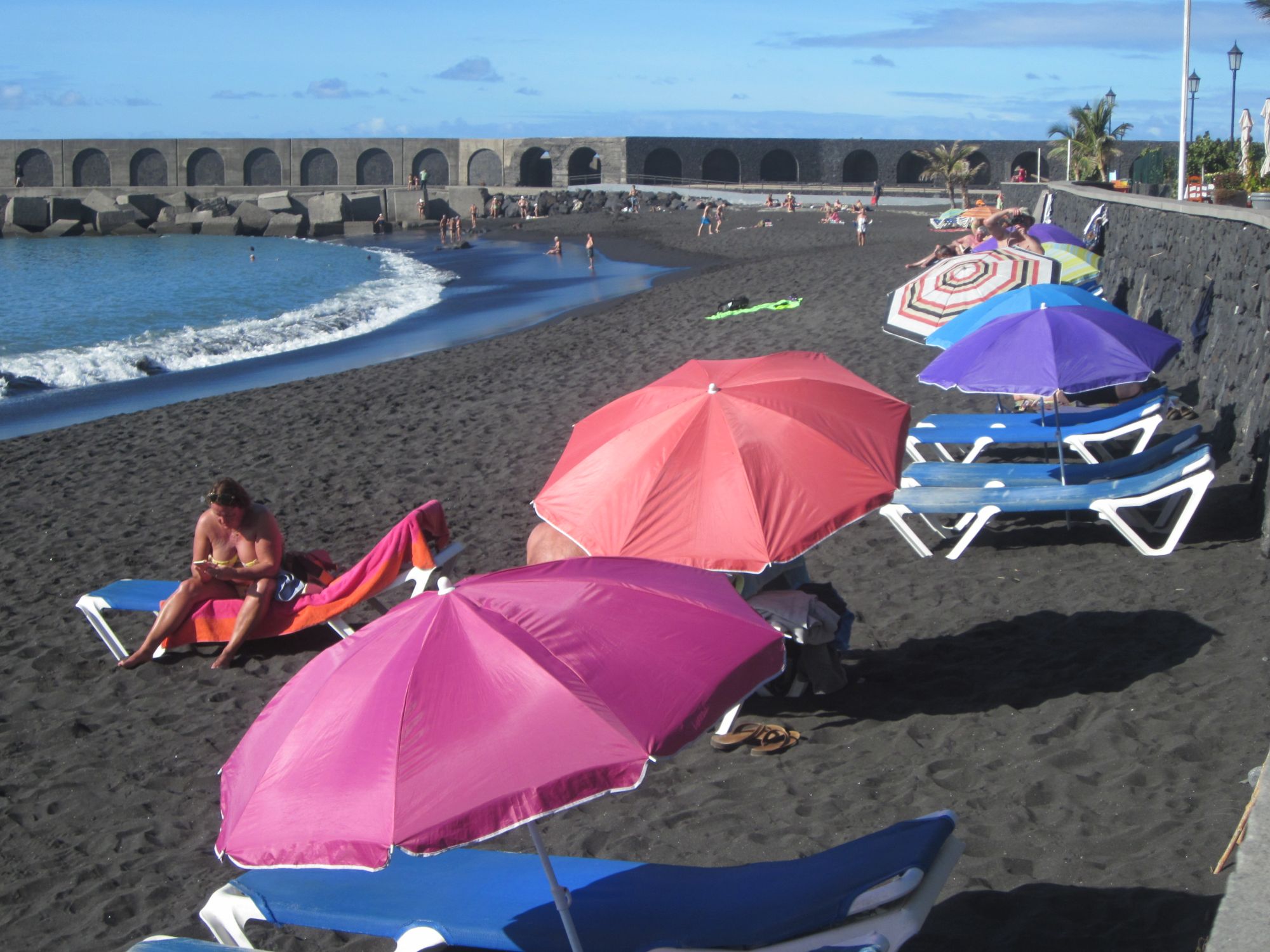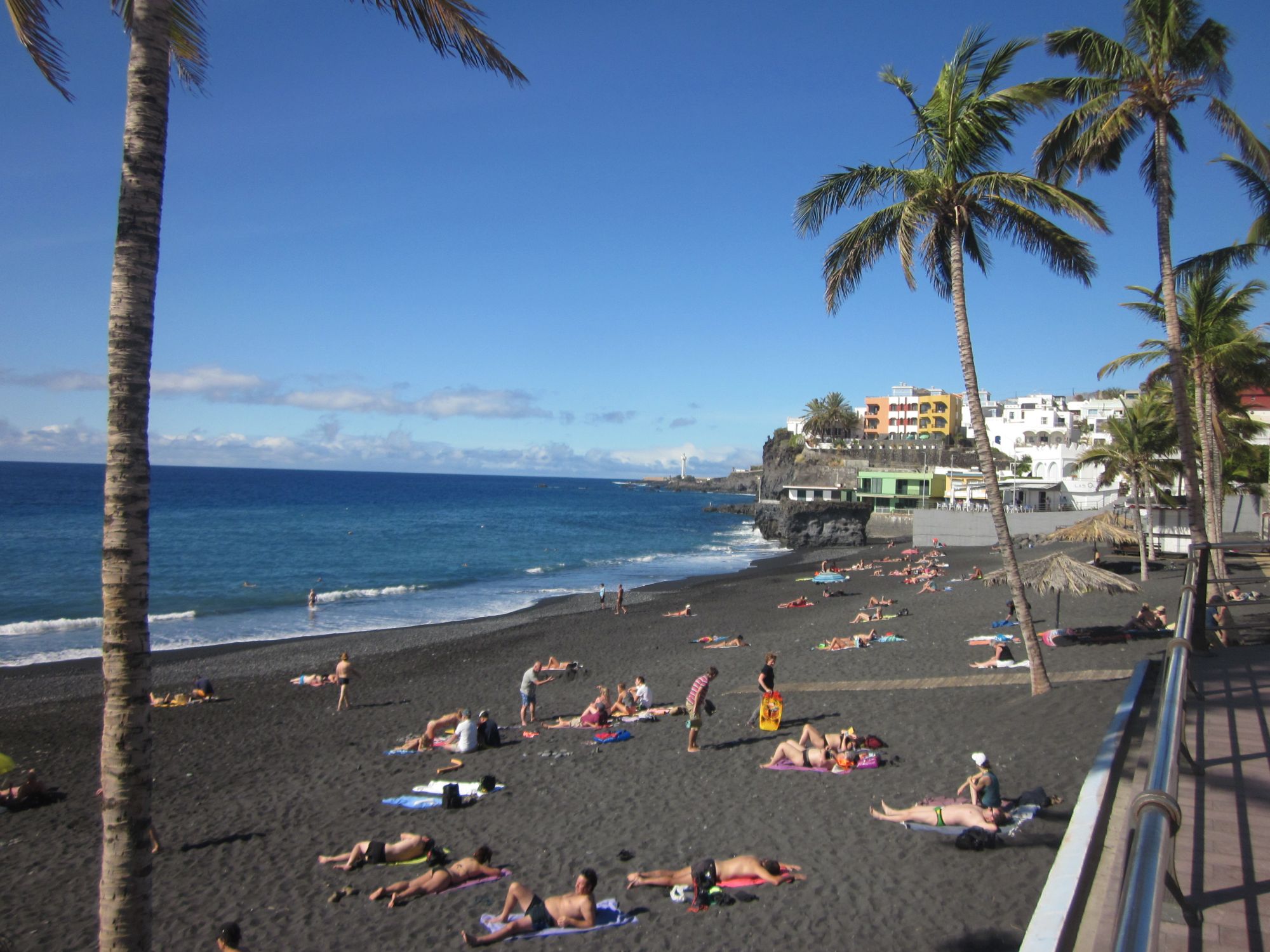 Playa de Puerto Naos Beach
A little further down the coast is the resort of Puerto de Naos with its large swathe of sandy beach which runs from one end of the bay to the Hotel Sol. With its new promenade which has now taken over what was once a one-way road, this is also worth a visit. Quite naturally it is popular with holiday makers with the Hotel nearby and lots of apartments too, but it's also a popular spot for SCUBA divers - you can often see them making their way across the sand and then descend into the lovely waters. We've discovered that the snorkeling around the headland of the Hotel Sol is surprisingly good - sorry, I see there is a bit of a theme going on here and you don't have to guess too hard to know what one of our favourite pursuits is!
Playa de Los Cancajos Beach
Los Cancajos in the east located between the airport and Santa Cruz de La Palma has a large bay with three beaches divided by natural rocky outcrops. My favourite for swimming is the far one (wouldn't you just know it) but for snorkeling, it's hard to beat the first one, at the end where the visitor centre is. With clear waters once you get past the sand near the water's edge, there are plenty of fish and we love to snorkel out to the breakwater to see if we can spot any empty urchin shells or see what else is going on underwater. And when it's calm we snorkel around the other side of the breakwater where the sea bed drops away to some crazy depth. Or snorkel along the rocky coastline - but watch out fishermen and their lines. Los Cancajos is also a great place for families with small children as it's pretty safe and with lots of little puddles and pools.
So just to redress the balance slightly, let me tell you that all three beaches have good restaurants plus bar/cafe's nearby. At Los Cancajos and Puerto de Naos, there are changing and shower facilities all year round but at Tazacorte, there are usually only facilities available in summer.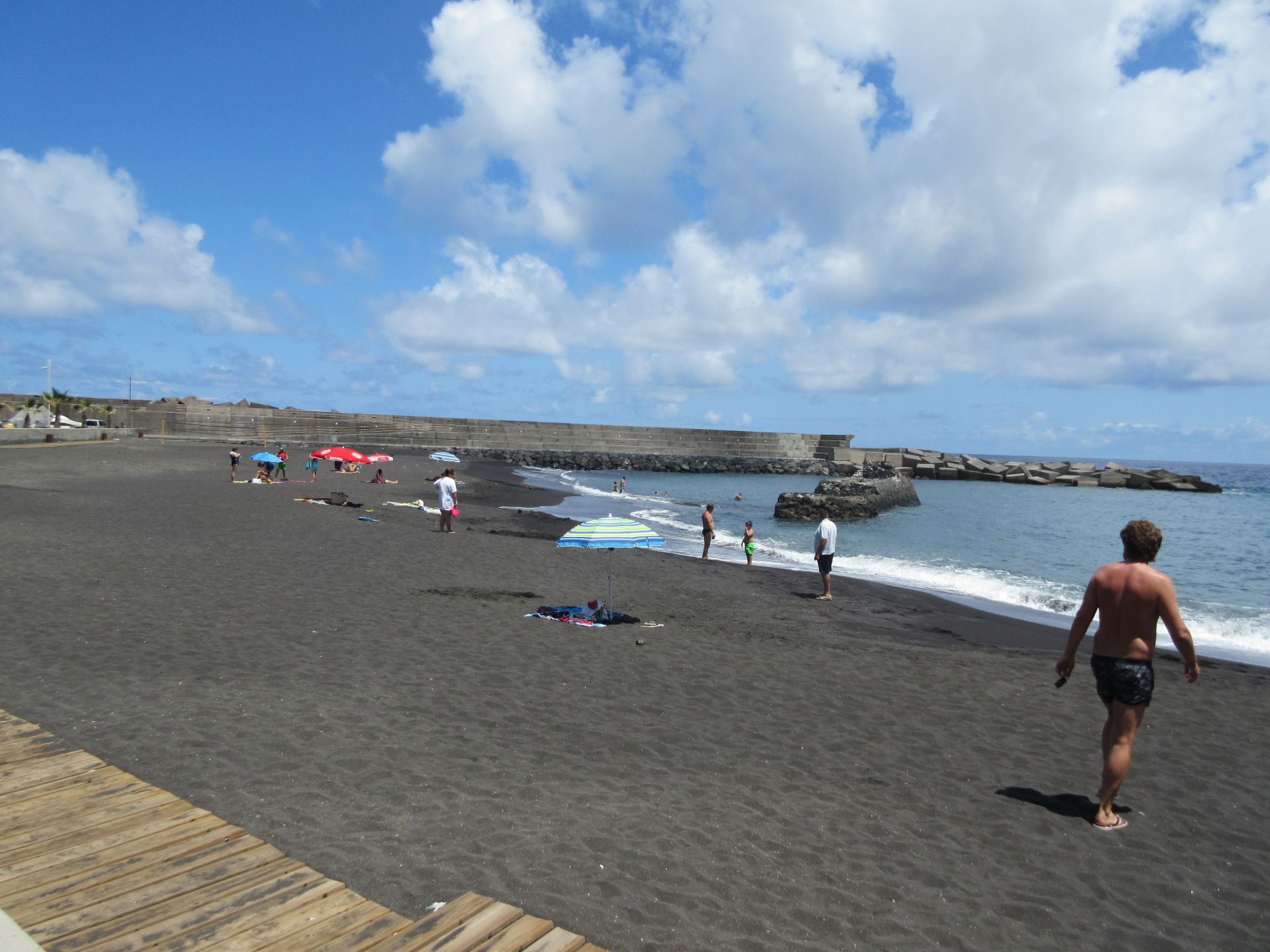 So what about beaches on the rest of the island? For access, it would be hard to beat the beach at Puerto Espindola which is below Los Sauces in the north east. You can park right next to the beach and whilst there aren't any changing facilities, there is the excellent Restaurant Meson del Mar right next to it. Definitely worth a visit!
Playa de Santa Cruz Beach
The beach of Santa Cruz is the largest beach on La Palma, running almost the whole length of the city.
Directly next to the Avenida Maritima and the maritime walk, it's convenient for bar/cafes and restaurants and grocery stores. There is also parking along the Maritima but also an underground park not far away.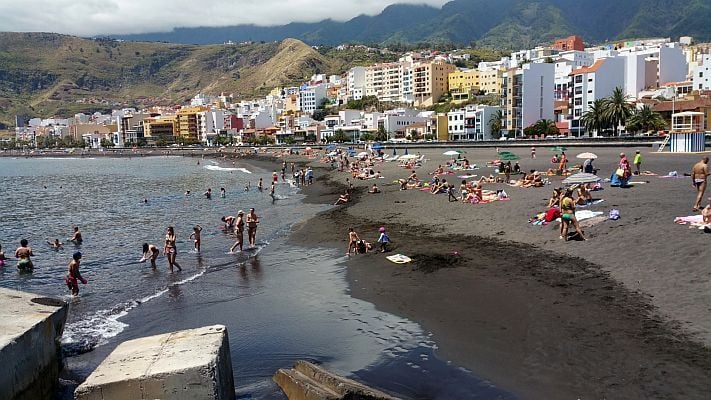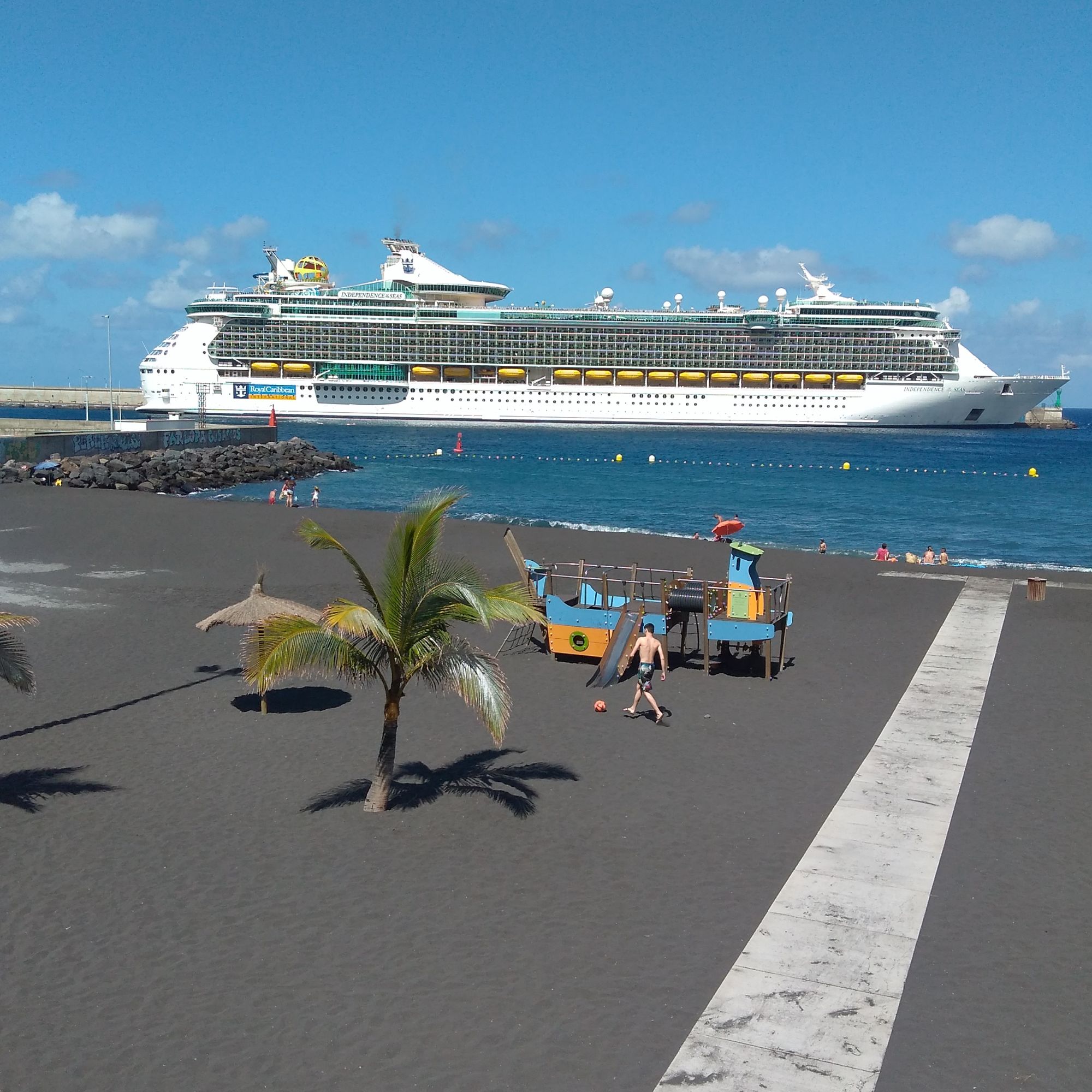 Playa Bajamar Beach Santa Cruz
Just 1km from the city of Santa Cruz is the Bajamar beach, although strictly speaking, this falls into the area of Brena Baja. It is however one of our favourite beaches and there is parking available just alongside, although you do need to approach it from a south to north direction.
Being opposiste the harbour you can often see one of cruise liners on its way in or out, the yacht school training its pupils or a ferry being led in by the pilot boat.
Other beaches on La Palma include:
Playa Salemera (south east)
Playa Nogales (Puntallana)
Playa de los Guirres/Playa Nueva (just north of Puerto Naos)
Playa de Charco Verde (south of Puerto Naos)
Playa del Faro (Fuencaliente)
Playa Enchentive (south west Fuencaliente)